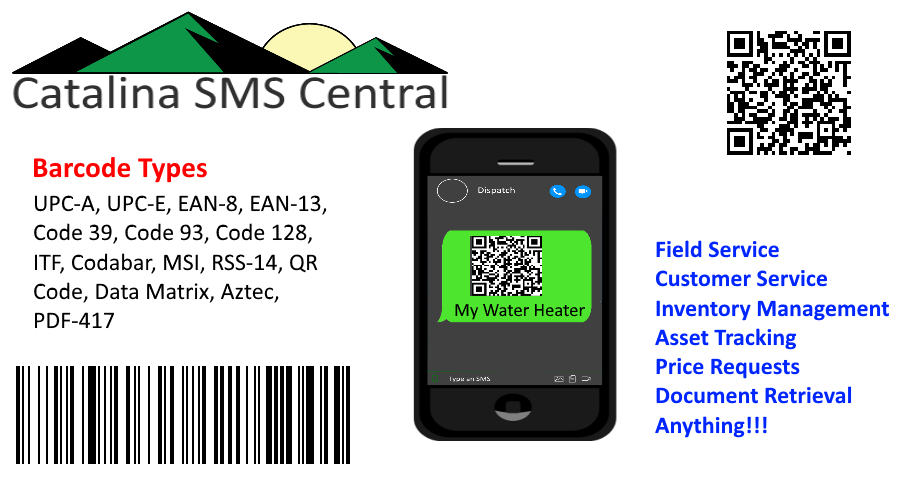 SMS Central provides you with a way for customers and employees to quickly communicate information stored on barcodes directly back to your back-office systems by doing nothing more than taking a picture of the barcode and texting it.  You don't need any app installed on a phone other than SMS messaging.  Those barcodes can then be used to create sales orders, service calls, inventory changes, as well as countless other things that you can use when tagging an item with a bar or QR Code.
Barcode formats SMS Central can handle
UPC-A, UPC-E, EAN-8, EAN-13, Code 39, Code 93, Code 128, ITF, Codabar, MSI, RSS-14, QR Code, Data Matrix, Aztec, PDF-417 
For Customers
Wouldn't it be great if you could communicate information with high accuracy between you and your customers?  What if your customer has a problem with one of your products and you are trying to determine exactly which one it is?
SMS Central allows you to give your customer a phone number to SMS text to and mail a QR or barcode directly to your system already decoded!
All a customer has to do is take a picture of the barcode on their product and SMS message it to you.  They don't have to install any special app on their phone and it will work on any phone.  SMS Central will then automatically decode that barcode and can then save it directly into your ERP, helpdesk, field service, CRM, or any other system so that you can have that information at your fingertips. 
For Sales
If you have sales people out in the field needing to restock shelves, supply restaurants, or other situation where the sales rep can snap a picture of the barcode on a product, SMS text it to your order management system, and then get it ordered.  All without any app installed on their phone.
Just snap a picture of a barcode of a product and send it to your order management or other system!
There are countless ways that SMS Central could be configured to handle most any workflow or need.
For Field Service, Inventory, and Asset Management
Your people in the field can quickly snap shots of barcodes and QR codes at customer sites to track what equipment is on site, what hardware has problems, or take inventory of assets at a location by simply using any phone and taking a picture and texting it.
Getting information about an asset or tracking assets is as easy as taking a picture of a barcode and sending it to your back-office system.  SMS Central does the rest!